BARCHETTA TOUR OF NORWAY 2023
Sunday 11th of June till Friday 16th of June 2023.
Sunday 11th of June:
Meetingpoint is Strand Hotel Fevik on the south coast of Norway. Organisation team welcomes all participants, and dinner will be served in the evening. The day is for social activities and to get to know all the participants.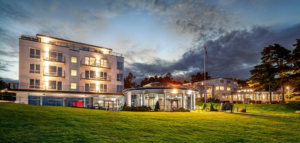 Monday 12th of June:
Leaving the hotel in the morning, probably lunch in Risør (or nereby), and then to next hotel, Straand Hotel in Vrådal. Todays trip is around 200 km.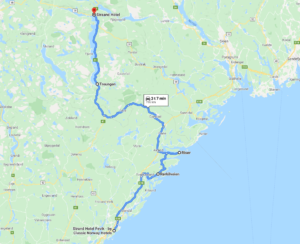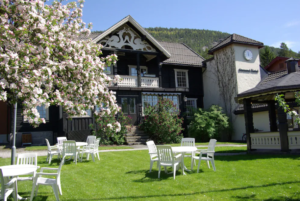 Tuesday 13th of June.
Leaving Vrådal, heading for mountains. Lunch at Haukeliseter in the mountains, and next hotel is Hotel Vøringfoss in Eidfjord. This day is around 270 km, and is the longest in one day on the trip. We will drive the old roads and not through the tunnels when possible.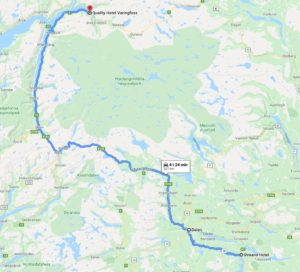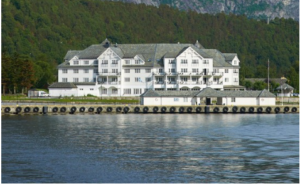 Wednesday 14th of June.
We have arrived in Hardanger, and the next days will be in the Hardanger area. Leaving Eidfjord in the morning, heading for the mountain and some spectacular waterfalls and viewpoints. Lunch at Dyranut Fjellstue in the mountain. Driving down again to the fjord and crossing Hardanger bridge before heading to Voss and Fleischer Hotel. Today we will drive around 150 km.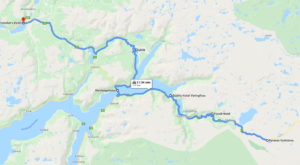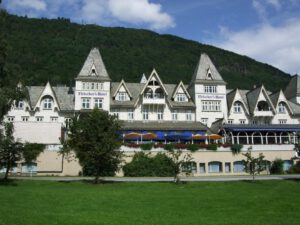 Thursday 15th of June
We leave Fleischers at Voss and drive back to Hardangerfjorden. We will follow the fjord till Norheimsund where we will stay at Sandven Hotel. We will try to drive on old roads where it is possible. The old road was the main road between the two biggest cities in Norway. A stop at Steinsdalsfossen where you can walk in under the waterfall. A short day of only 80 km, so we have time to be social on the last evening on this trip.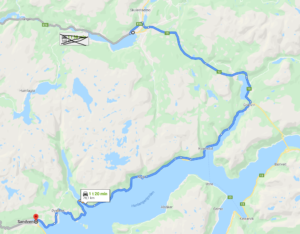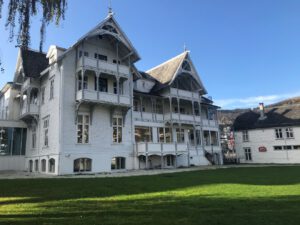 Friday 16th of June.
Official part of the tour ends in Norheimsund, but we will drive together to Bergen for those who wants that. Bergen is the prettiest town in the world (my opinion😊 ) and I recommend everybody to stay a night or two here. This is a distance of around 80 km.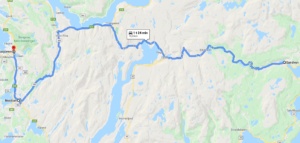 General info.
The tour goes from the southern coast of Norway, crossing mountains, driving by Hardangerfjorden to the beautiful town of Bergen.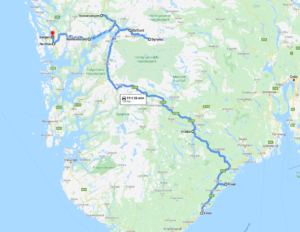 In total we will drive around 750 km. Day 2 will be the longest with 270 km. All the hotels we will visit are classic Norwegian hotels with beautiful location.
Price pr night will be around NOK 2.800,-(aktuell ca. 273,-€) pr night for 2 persons including breakfast and dinner. Total will be around 14000,- (aktuell ca. 1366,-€)for 2 persons in doubleroom including dinner and breakfast for 5 nights.  For a singleroom the price will be around 9.500,-(aktuell ca. 927,-€). Lunch is not includes. Sign on fee of NOK 500,-(aktuell ca. 49,-€) will come as extra.
Payment has to be made within the dates below.:
15 september 2022:       Sign on fee of NOK 500,-(aktuell ca. 49,-€) to guarantee place on the tour.
15 january 2023:               Part 1 of the cost, around NOK 6.000,-(aktuell ca. 586,-€)/singleroom NOK 4.000,-(390,-€).
15 april 2023:                     Part 2 of the cost, around NOK 8.000,-(aktuell ca. 781.-€)/singleroom NOK 5.500,-(537,-€).
The cost has gone a bit up, because of rise in food prices, so we have to pay a bit extra for dinner at the hotels.
This tour is set up with the hope that the world is back to normal again, and there are reservations about changes and cancellations due to covid19/Corona. Everybody must take their precautions in relation to limiting infections and we will follow orders from the authorities regarding infection rules on this tour.
If you have any questions regarding the trip don't hesitate to contact us.
We can also help if you want tips about how to get to Norway, and we can be helpful with information about what to see in Norway and where to stay.
Looking forward to see you all on this tour.
Please contact me if you have any questions.
Organisation team;
Trygve Barlag                     mail: trig@hotmail.no;
Reidar Lerdal                     mail: reidar@lerdal.net;
Jarle Nordås                      mail: jarle.aurstad.nordas@dbschenker.com
Buchungen
Buchungen sind für diese Veranstaltung aktuell nicht möglich. / Bookings are currently not possible for this event.
Folgende Barchettafreunde haben sich bisher für das Event angemeldet:

Anne Kristin og Jarle Nordås
Dorothea u Jörg Elswyk
Tone Bergersen og Trygve Barlag
Sonja og Reidar Lerdal
Birgit Firsbach u Reiner Jobski
Wil en Jan Stieber
Ellen u Armin Jobski Haas
Marco & Andrea Lahmann
Edith N. en Patrick Lipplaa
Judith en Peter Wachters
Heiner & Lissy
Carla K en Charles Webster
Magdalena og Mårten Björs
Tone og Terje Buch
Mark und Bianca E.
Endrina Smit & Marck van Haren
Frank & Andrea K.
Alex Bosse
Gabi u Daniel Roloff
Hani Jouhar
Bastian Poser
Markus Becker & Zoreh Zamankhan Oeding
Rebecca Ingram & Andrew Logan
Dr Wiesenhütter
Martine Verboven
Ramona u John Roggenbuck
Kai Andre Olsen
J. und S. Albert
Frebah Y und Jochen Höpken
A. und W. Orfanelli
Maurizio Sicco and Copilot
Annet & Richard de Jong
M. Van Beek & Ton Boonen
Susan Law
Dahlke, Dietmar u. Ilona
Birgit Zobel u. Uwe Brentrup
Carmen & Thomas Schwarz
Kyoko & Masami Nakamoto
Laura Mineikaite & Giedrius Kavaliauskas
Jenny und Martin Garrad
Denise und Colin Metcalfe
Monique Robout u. Michiel Hofman
Nicole Due u Thomas Hinnenthal
Wil en Tito Rubbio